Turkish prime minister said, "that Israel has accepted that Turkey will again mediate talks with Syria and we will assess it."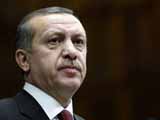 Recep Tayyip Erdogan told reporters in Saudi Arabia on Tuesday that the stalled talks may resume soon.
Turkey mediated several rounds of indirect negotiations between Syria and Israel in 2008. The talks was suspended after Israel's deadly offensive into Gaza that killed nearly 1500 Palestinians.
Erdogan said, if positive, the Syria-Israel talks can resume.
Turkish premier has urged the international community to exert pressure on Israel to secure a fair and a lasting peace in the Middle East, Anadolu news agency said.
Erdogan also said, that on the talks between Palestine and Israel, "the talks, that only Abbas will attend, will not yield healthy results, both Palestinian groups should join the process.
"The international community should put the necessary pressure on Israel to end all its anti-peace actions such as attempts aimed at changing the demography, character and the status of Jerusalem," Recep Tayyip Erdogan told a group of reporters in Riyadh, Saudi Arabia where he was set to receive the "King Faisal International Prize".
Erdogan said Turkey did not want the Middle East to be dubbed as the region of tensions, clashes and unsettled conflicts, adding that his country aimed at creating a joint understanding for political dialogue through economic interdependence and integration as well as cultural interaction.
Erdogan said Turkey exerted sincere efforts to maintain peace, stability and confidence in the region by creating constructive platforms for dialogue.
"We believe that the deadlock in the Middle East peace process should be overcome immediately and the peace talks should be revived on all channels. The responsibility lies with us all in finding a viable peace to the Palestinian issue," Erdogan said.
/World Bulletin/