The Turkish head of ISAF's regional command in Kabul met Tuesday with a group of media members at the Kabul headquarters.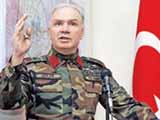 ISAF's Kabul Regional Commander Gen. Levent Colak briefed reporters about the duties of the Turkish unit in Afghanistan as part of a tour for the press.
Our main goal here is "to make more Afghans smile", Colak said, adding that Afghan people as well as security forces, politicians and high level commanders bear a great respect and love for Turkish army and Turkey.
Colak said Turkey was set to establish its second provincial reconstruction team in Afghanistan in addition to the one in Vardak region which deployed 70-80 Turkish troops.
The Turkish commander said nearly 1,700 Turkish troops "served in the ISAF mission" under Kabul command "and as far as I know Turkey had no pledge to contribute more troops."
Colak said Turkish troops in Kabul did not engage in combat, mine sweeping or anti-narcotics missions.
"If anything comes up that would overwhelm Afghan forces and their capabilities then it is in our mandate to extend support. We go on joint patrolling missions with the Afghan army. Our weapons are always pointed downwards. We have never pointed our weapons to people here. But if arms are are pointed at us, then it is our right to use weapons to defend ourselves," Colak said.
Colak said the Turkish unit had taken up giving military training to nearly 600 Afghans in a base in Kabul, adding that around 120 Afghans visited Turkey every month to receive military training in a base in Turkey's southern province of Isparta.
Colak said a Turkish hospital extended medical aid to nearly 200 Afghans on a daily basis, adding that the hospital had made a great reputation in Kabul for its credibility.
/World Bulletin/