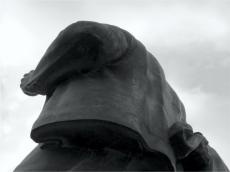 By Azernews
By Laman Ismayilova
YARAT Contemporary Art Space will host the 24hrs project "Monumental" at ARTIM Project Space on December 1-17.
The project involves ARTIM LAB participants Shahnaz Aghayeva, Hatem Alizadeh, Leyla Guliyeva, Gafar Rzayev, Mousa Beyzadeh, Etibar Ismayilov, Ilaha Khaliqova, Aydan Mirzayeva and Agil Tahirli. 
Curator of the show is an Austrian artist Michael Hirschbichler.
The monument is one of the oldest forms of artistic and, more generally, cultural expression. In its original function to commemorate people and events of the past it is a mark of memory, a storage of certain elements of history that are deemed important.
In this role it brings to the present time a version of the past that the official parts of the society that put up a monument wish to propagate. Thus the monument becomes a time machine that not only penetrates to the past but also, intentionally or unintentionally, alters this past by materializing it in a specific way. Consequently the monument doesn't say so much about a certain past as it does about the time of its erection, and, by observing its veneration or other treatment, about society at the respective present moment.
The monument is therefore always contemporary, despite the fact that it mostly appears in historic guise. And it is connected, like no other form of artistic expression, with a conception of society, its past, present and future. The French intellectual George Bataille goes as far as placing humans between apes and monuments in regard to evolution.
(1) And the proponents of land art and pop art in the 1960s found monuments in the unexpected realm of the everyday, seemingly far away from the historic and political sphere. (2) Because of its omnipresence and due to its crucial role in the shaping of societies the monument is a key subject of contemporary art.
The exhibition "Monumental" tries to uncover different aspects of the monument and of monumentality and thus to gain relevant perspectives on the present state of society, by relating to materializations of its past and projections of its future.
(1) Georges Bataille, Architecture, 1929.
(2) See for example: Robert Smithson, A Tour of the Monuments of Passaic, New Jersey, 1967.
Michael Hirschbichler, born in 1983, is a visual artist living and working in Zurich and Munich. His solo and group exhibitions have been shown, among others, at Martin-Gropius-Bau, Berlin, Museum Helmhaus, Zurich, Haus der Architektur, Graz, art space artQ13, Rome, Museo Civico G. Fattori, Livorno, Villa Massimo, Rome, art space –ion+, Zurich, Zollhaus, Lucerne, project space MARIA HIL F at ETH Zurich, Folium, Zurich, Gallery Karin Sachs, Munich, Gallery A¦B¦C ontemporary Zurich and Artifact Gallery, New York. Michael Hirschbichler was a resident at Villa Massimo in Rome and will pursue a residency at Cité Internationale des Arts in Paris in 2018.
The event starts at 19:00. Admission is free. Address: Old City Boyuk Gala Street 30, 001A