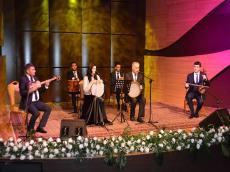 By Azernews
By Laman Ismayilova
Mugham is the soul of Azerbaijani people, their folk music and traditions.
Legendary composer Uzeyir Hajibeyli  described the variety of moods that are contained by mughams in a following way: "Rast" invokes feelings of cheerfulness and courage, "Shur" brings a listener into a happy, lyric state, "Segyakh" evokes the feeling of love, "Shushter" brings deep melancholy, "Chargyakh" brings excitement and elation, sadness comes with "Bayati-Shiraz", and deep bitterness and sorrow – with "Khumayun".
One can only imagine what storm of wild emotions awaited the audience at the evenings of mugham music.
Brilliant mugham modes "Bayati-Hajar" and "Shahnaz" sounded in the International Mugham Center on November 15, Trend Life reported.
The project, organized by the International Mugham Center in Baku, gave the audience unforgettable experience.
The evening opened with the 'Bayati Hajar", performed by Honored Teacher of Azerbaijan Gazanfar Abbasov and Honored Artist Nuriya Huseynova.
Then Gazanfar Abbasov and his students, the winners of the Mugam TV competition Ulviyya Mammadzade and Nushaba Karimova mesmerized the audience with mugham "Shahnaz".
Their performance was accompanied by Ilkhamiz Ismayilov (tar), Bayram Aliyev (kamancha), Idris Tagiyev (balaban) and Elnur Aliyev (naghara). Moreover, spectators also enjoyed national folk songs.
 "Qatar", "D??ti", "Mirz? Hüseyn Segah?" – 29 ??????, "Xaric Segah" - 6 ???????, "Heyrat?", "M?nsuriyy?", "Qaraba? ?ik?st?si", "Osmanl?", "Heyd?ri", "Simayi-??ms" – 13 ???????, "Ov?ar?", "Arazbar?" – 27 ???????.
The new season will run until December 27. There will be evenings devoted to various areas of mugham, including  " Qatar", "D??ti", " Mirz? Hüseyn Segah?" (November 29), "Xaric Segah" (December 6), " Heyrat?", " M?nsuriyy?", " Qaraba? ?ik?st?si", " Osmanl?", " Heyd?ri", " Simayi-??ms" (December 13), " Ov?ar?" and "Arazbar?" (December 27).
Concerts devoted to the Azerbaijani mugham modes, including " Orta Mahur", "Rahab" (November 1), "Bayati-Hajar " and " Shahnaz" (November 15) took place as part of the project.
Tickets can be purchased at all ticket offices of the city, ASAN Service centers and website  www.iticket.az.
Media partners of the event are Trend.az, Day.az, Milli.az, Azernews.az, "Baku" Magazine.