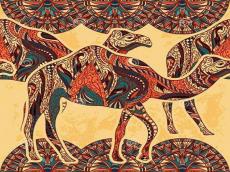 By Azernews
By Laman Ismayilova
German-Azerbaijan Cultural Society "Kapellhaus" will host the 8th Arts and Crafts festival in Baku.
The festival will present ethnic handmade crafts by talented artists on October 20-21, Azertac reported.
Visitors will be able to join the creative associations and may also participate in workshops on ceramics and marbling art.
The festival is held twice a year - fall and spring, providing an opportunity to see the works of talented artists of the city. It's an excellent opportunity for artists to express themselves through an art.
Last time, more than 60 talented artists and fine crafters gathered under the same roof to show the power of their imagination.
Beautiful samples of arts and crafts including stained glass paintings, ceramics, beading, embroidery, decoupage, jewelry, aromatic soaps, handmade, woodcarving and dolls were put on sale.