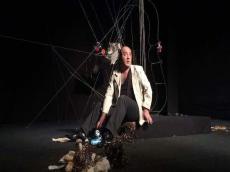 By Azernews
By Laman Ismayilova
Azerbaijan State Theater of Young Spectators will take part in the 5th International Theater Festival of Small Forms "Northern Meetings in Nizhnevartovsk, Russia, on October 25-28.
The festival will bring together actors from different countries, including Russia, Moldova, Italy, and France.
The theater plans to present monologue "The Double Bass" by Patrick Zuskind with the participation of Honored Artist, laureate of international competitions Shovgi Huseynova, Trend Life reported.
Director, stage designer and author of musical design is People's Artist of Azerbaijan Irina Perlova.
"The Double Bass" is a play by Patrick Süskind, best known for his internationally acclaimed novel Perfume: The Story of a Murderer.
 The monologue in one act premiered in 1981.
The play consists of an extended monologue delivered by a double bass player, who speaks to the audience in his small sound-proofed apartment while drinking beer.
The world of the double bass player is secluded and impenetrable.
The musician is in his mid-thirties and is employed at a State Orchestra. At first he praises his instrument and its importance in the orchestra. At the same time, he reveals more and more of his past and present rather than his current misery. He did not pick his instrument out of love and he never has company.
The play was appraised in Iran, Turkey, Moldova, Russia and Ukraine.