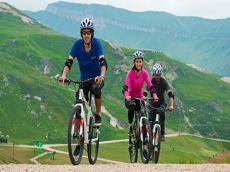 By Azernews
By Laman Ismayilova
The Shahdag Winter and Summer Tourism Complex, one of the most visited tourist destinations not only in Azerbaijan but the CIS area, will once again open its doors for all urban culture and extreme sports fans.
Urban Festival 2017 at the complex, located in the Shahdag National Park, 32 km from the center of Gusar region, will start on August 27, Trend Life reported.
The program of this year's festival will consist of several parts:
- HIGHEST OLLIE CONTEST - competition among local skateboarders at the highest jump.
- MTB-riders on the extreme route, with a finish line near the wall, where a new graffiti drawing from representatives of Urban Art Azerbaijan will be presented.
- ALL FOR ONE - dance championship 1 on 1 without frameworks in the choice of dance style. Throughout the festival, DJ TWIST and DJ KILLAJAZZ will charge the atmosphere with positive vibrations.
The Shahdag Tourism Complex is Azerbaijan's first ski resort and it differs from similar facilities in the world for its uniqueness and diversity. Year by year the number of tourists discovering this beautiful resort increases.
The Shahdag complex stands 2,500 meters above sea level and serves as an outstanding getaway with its rich nature, fresh air, and wonderful climate, with temperatures ranging between minus 20-22 degrees Celsius in winter and 20 degrees in summer.