Azerbaijan's Finance Minister Samir Sharifov and German Ambassador to Baku Per Christopher Stanchina signed August 14 an agreement on financial cooperation in creating the Samur-Yalama national park in Azerbaijan.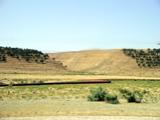 Under the agreement, German bank KWF will allocate ?2,225,000 for the project's first stage.
Ambassador Per Christopher Stanchina said the grant is directed towards the socio-economic development of Azerbaijan, as well as conservation of natural resources of the Caucasus.
Minister Samir Sharifov described the accord as a new stage of cooperation between Azerbaijan and Germany within the program of conservation of ecoregional resources of the South Caucasus.
/AzerTAg/