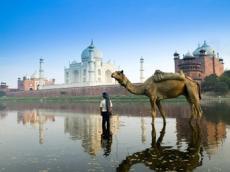 By AzerNews
The most enigmatic country in the world, an extraordinary place, one of the world's greatest human melting pots in which an incredible array of cultures, religions, and ethnicities live in reasonable harmony... This is India.
"My first visit to India was so exciting that I could not keep my admiration of this country," says an Azerbaijani journalist who has visited this land of magic tales and legends. "It is a wonderful museum under the open sky."
Afat Sadigoglu has been in love with India since his early childhood, and this enthusiasm was the source of his inspiration to visit India and to write a splendid book titled "The World of India".
Sadigoglu mainly describes India, one of the world's most ancient and largest nations located in the Indian peninsula in Western Asia.
The establishment of the first state in the territory of modern India dates back to the first millennium BC.
India is the seventh largest country (over 3.28 million square kilometers), and second most populous country (1.21 billion in 2010) in the world. Its capital is New Delhi.
India is a federal country with 28 states and seven union territories. Its population speaks in 15 languages and 844 dialects.
New Delhi is decorated with historical monuments, palaces, mausoleums, castles, mosques, hotels, trade centers, parks, gardens, and other sightseeing places, especially in Shahjahanabad, the old part of the city.
"What is exciting for me personally is that Azerbaijani architects and craftsmen played a significant role in the development of the Indian culture in the Mughal Empire. Mir Seyid Ali, a disciple of Soltan Muhammed Tabrizi, played a great role in the formation and development of the Mughal Miniature School. He headed the art manufactures of Humayun shah and Akbar shah for a long time. Abdul Aziz, an Azerbaijani architect, also worked and lived in India" Sadigoglu said.
India's cuisine is as colorful as India itself. Main meals are made of beef, poultry, fish, and rice. Boiled meat with bitter spices dominates this cuisine.
Azerbaijan and India share a lot of similarities in their lifestyle, culture, music, and traditions. The two countries share a lot of words such as 'kabab' (kebab), 'dunya' (world), 'dost' (friend), 'ibadet' (praying), 'kitab' (book), and others.
Azerbaijani engineer discovers oil in Calcutta
Deputy Head of Indian Cultural Relations Council Acit Gupte said India and Azerbaijan, the two countries that enjoy significant bilateral relations, have good ties in the energy sector as well.
Indian Oil City Company purchases and sells Azerbaijan's oil.
Gupte: Did you know that an Azerbaijani oilman who worked in Calcutta discovered oil in India?
Sadigoglu: It was Eyyub Taghiyev who discovered oil in the Assam state in 1956. He is known in India as 'the father of the Indian oil'.
Gupte: There is a monument honoring this oilman. But, unfortunately, nobody knows where it is located.
About the author

Afat Sadigoglu has successfully created and succeeded in becoming part of the literary history.
The writer is the author of various books. His stories and narratives are impressive and exciting, and enjoy popularity among readers.
His works are the result of long observations and scientific, journalistic, and historical researches. By conducting broad research into international politics and historical relations, Sadigoglu has created valuable works on strategic issues, including "Azerbaijan-Norway Relations", "Thor Heyerdahl in Azerbaijan", "Azerbaijani Section of International Engineering Academy", "Azerbaijan-India Relations" (in Azerbaijani and English), "Azerbaijan-Turkey: Friendly and Brotherly Relations", etc.
Sadigoglu has also published articles in foreign media; his articles have dealt with the glorious days of his native Azerbaijan, the painful Bloody January Tragedy, the honorable history of the struggle for independence, and the Azerbaijani statehood's present and bright future.
He is the Deputy Editor-in-Chief of Xalg Gazeti newspaper, and holds the titles of Honorary Journalist and Honorary Culture Worker.