There is statistical information on the webpage of Migration Department attached to Swedish government on the number of the foreign citizens wanting political refuge from this country.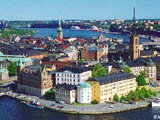 APA was informed by out compatriots living in Sweden. According to the official information 1489 Azerbaijani citizens appealed to the Swedish government for refuge last year.90 % of Azerbaijanis tried to explain their appeals by suffering political persecution.
The Swedish government issued refuge status to 106 Azerbaijanis in 2004.19 of them archived the status of political immigrant, 7 citizens achieved the status of person suffering persecution for the other reasons showed in the Geneva Convention in 1951, the rest 80 Azerbaijanis achieved humanitarian status.
According to the official calculations of Migration Department, Azerbaijan comes second after Serbia-Montenegro Republic for the number of the citizens wanting refuge from the Swedish government.