Malcolm Bruce, the co-rapporteur of the Parliamentary Assembly of the Council of Europe (PACE) on political prisoners in Azerbaijan will pay a visit to Baku, Aytan Shirinova, the spokeswomen for the Baku Office of the Council of Europe, told Trend.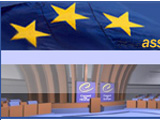 According to Shirinova, under the three-day visit Bruce plans to meet with senior officials of Azerbaijan. "The CE co-rapporteur will start official meetings from 15 March. Under the visit Bruce will meet with the head of the Baku office of the OSCE, Pavesi, officials of the President's Executive Office, MPs, Azerbaijani parliamentary representatives to the PACE, as well as head of the NGOs. Bruce also plans to visit the colonies and meet with people included in the CE's list of 'political prisoners'.
Shirinova stressed that on 16 March the CE office in Azerbaijan would hold a news conference on the results of the visit.