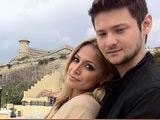 "I highly assess Azerbaijan's chance in this contest. You have a memorable song and it is the most essential in the contest", Norway's "Eurovision-2011" representative Stella Mvangi said.
She also shred her opinions on "Eurovision": "The preparations are going perfectly, I feel happy. I am pleased that during performances, the fans sing this song with me and dance to it. My first impressions of the contest are positive. I am glad that I have this chance".
The Norwegian representative also said that there are many favorites in this contest. As an example, she called the group «Blue» and «Dana International». She hopes that she will repeat Alexander Rybak's success and wishes the contest to be held in Norway in 2012.
/APA/