A grandiose concert dedicated to 75th anniversary of Luciano Pavarotti took place at the Azerbaijan National Philharmonic Hall.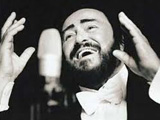 The concert was performed by the Azerbaijan National Symphonic Orchestra conducted by Azerbaijan's honored art figure Yalchin Adigozalov and conductor of Belarus National Academic Grand Opera and Ballet Theater Victor Plaskina. Azerbaijani, Italian and Russian singers performed at the concert.
Italian tenor Danilo Formaggia, Brussels Opera soloist Svetlana Sozdatelyeva, Minsk Opera soloist Alla Plaskina and young Azerbaijani baritone Ilham Nazarov were also among the performers. A large local audience and foreign guests viewed the concert.
/APA/
Related articles:
Concert devoted to Luciano Pavarotti to be hosted in Baku