Popular Swedish singer Bosson, during the interview with Trend Life, said, that Arash (who lives in Sweden) and AySel Teymurzadeh were great, presenting Azerbaijan on the Eurovision 2009 Song Contest.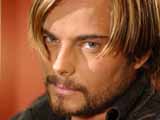 "I travel a lot, and I've had a lot of concerts. Although, never been in Azerbaijan. Surely hope to come someday", he said.
"From what I know, many Swedish artists been in your country. Azerbaijan was really good at Euro 2009, you even beat my native Sweden. I am familiar with your country, and your capital, Baku. Hope to see it with my own eyes someday", Bosson said.
/Trend Life/