Susan Boyle was reportedly mistaken for Queen Elizabeth II by Eurostar staff on a trip last week.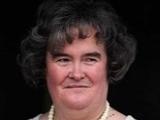 The Scottish singer - who had travelled first class from Paris to London with her manager Andy Stephens and niece Kirsty Foy - is said to have been amused by the case of mistaken identity, after several members of the crew bowed and curtseyed to her after being told they were expecting a royal passenger.
An onlooker at the Gare du Nord station told the Daily Record: "A rumour went round that the queen had arrived to catch a train back so everyone was told to observe royal etiquette.
"It soon became clear it was Susan - and not Her Majesty - but one train attendant still thought she was the queen. Susan roared with laughter when she realised the mix-up."
/Digital Spy/