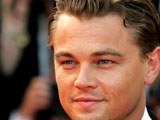 Leonardo DiCaprio has insisted that he is too busy focusing on his career to think about starting a family.
The Inception star - who is currently in an on-off relationship with model Bar Refaeli - maintained that his first priority is to reach his full potential as an actor.
"I'm not that old, my biological clock isn't ticking yet," the 35-year-old told Germany's OK. "I'd like to leave it to fate if and when I'm going to be a father. A part of me has too many professional plans to even seriously consider it. When I see the children in my family though, the idea of having children doesn't seem too far-fetched."
He continued: "In this business nothing is as dangerous and as feared as loneliness. You shoot films in the most remote areas of the world; you're separated from your family and your friends. And at some point you're in your hotel room looking at yourself in the mirror and you realise how lonely you are and how far you are from leading a normal life. That is quite a punch in the gut."
When asked about how he deals with the solitude of filming in remote locations, DiCaprio answered: "Apart from my phone bill soaring? I generally concentrate on work and push any feelings of yearning away."
/Digital Spy/