High heels fanatic Victoria Beckham could end up in a wheelchair if she decides to have surgery on the painful bunions on her feet.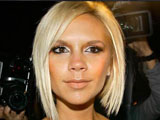 Speculation that Posh is set to go under the knife comes after she was pictured swapping her painful stilettos for soft ballet pumps this week, with further pictures of her in flip flops showing off the true scale of the bumps by her big toes.
Now insiders claim she is considering surgery to fix the bunions which could see her on crutches (designer no doubt) or even a wheel chair.
"Victoria has been in a lot of pain for the past few years, but it's got much worse in the last six months", says an insider.
Specialists have reportedly warned the fashion designer the "painful operation" would require her off her feet for six weeks to recover, meaning crutches or a wheel chair would be needed to ferry her about the globe.
A source close to Beckham, 35, told Closer magazine: "It's a pretty major operation and Vic's said she's having sleepless nights at the though of it".
Victoria Beckham shows off bunions this week in sandles Victoria Beckham shows off bunions this week in sandles
Indications that Posh is finally buckling under the strain of her designer heels come with her U-Turn on wearing ballet pumps.
She once said: "Unless they're on a ballet dancer doing ballet, I just don't get it".  
Now she admits: "I'm not going to lie. But no pain, no gain, as they say. I don't mind. I will suffer. I don't wear heels every day, but when I'm out, that's how I feel confident."
/Metro.co.uk/