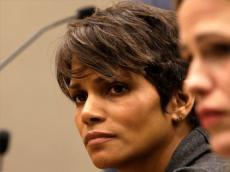 Halle Berry is going to need the paycheck she's getting from her upcoming TV series Extant. The Oscar-winning actress has been ordered by a Los Angeles court to pay $16,000 a month in child support to her former beau Gabriel Aubry, People reports.
The settlement, which occurred late last month, says Berry must fork over the sum to Aubry each month until their 6-year-old daughter Nahla turns 19 or graduates from high school, whichever comes first. Berry will also have to write a check for $115,000 to Aubry for retroactive support. The couple share equal custody of their daughter.
Stars who've gone bankrupt
Berry and Aubry, a Canadian model, began dating in 2005, and welcomed Nahla in early 2008. Two years later, the couple announced their split. A messy custody battle ensued when Berry tried to move Nahla to France to be with her now husband Olivier Martinez. However, the parties reached a custody agreement in late 2012 following Aubry's claim that Martinez assaulted him on Thanksgiving. Martinez and Berry wed in July 2013 andhad a son, Maceo, together three months later.

/Yahoo/