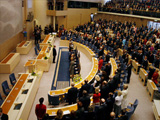 Following the reports about the discussions of resolution on Nagorno Karabakh conflict at the Swedish parliament, Armenian lobby made a move to prevent discussions. According to APA, Armenian community in Sweden sent a letter to the parliament demanding to cancel the discussions. They claim that there are false reports about the refugees, internally displaced persons and Khojaly genocide in the resolution.
The discussions scheduled to be held in the first half of 2012 aim to inform the Swedish parliament and society about the realities, member of the Swedish parliament Mehmet Kaplan said during his meeting with the representatives of the Sweden Azerbaijanis Congress. He said after that Kazan meeting between the presidents was ended without result, Swedish media spread incorrect reports that Azerbaijan rejects Minsk Group's proposals and intends to begin military operations.
The integration of Azerbaijani youth into Swedish society and their involvement in the socio-political life of the country was also discussed at the meeting of the representatives of Azerbaijanis Congress with the member of Swedish parliament.
/
APA
/