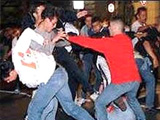 Two Azerbaijani citizens were killed and one was wounded in the south part of Moscow.
The scuffle took place in a café situated on Warsaw highway. An unknown person opened fire at the above mentioned citizens, and shot them several times. Three people were wounded, two of which died. The wounded was hospitalized.
The unknown person in Audi, who brought the wounded, threw him outside the hospital and escaped in unknown direction. The search of that person is continued.
/
APA
/