Acrobatic Gymnastics World Championship attended by Azerbaijani sportsmen completed in the Polish city of Wroclaw.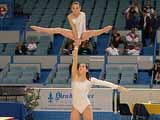 A women's couple Ayla Ahmadova and Dilara Sultanova and a men's couple Rustam Najafguliyev and Elchin Mammadov performed in Poland, the Azerbaijan Gymnastics Federation said.
On the final day of competition Ayla and Dilara performed in qualifying with a combined exercise. They got 27,959 points from judges and ranked third with a total result of 84.98 points at the preliminary stage, though after the first two exercises they were first.
Ahmadova and Sultanova got 27.9 points and ranked fourth after Ukraine, Belarus and Russia in the final.
As to Rustam Najafguliyev and Elchin Mammadov, after three exercises they ranked 11 with 77,613 points and failed to qualify for the final.
/Trend/