President's Cup international chess tournament is underway in Baku.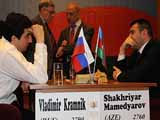 The first two rounds have already ended.
Hungary's Judit Polgar, who lost to Azerbaijani player Shahriyar Mammadyarov in the first round, played with Teymur Rajabov. Despite efforts of the sides, the party ended in a draw.
Rauf Mammadov-Gadir Huseinov and Emil Sutovsky-Gata Kamsky games ended in a draw.
Shahriyar Mammadyarov defeated Vladimir Kramnik and became the sole leader President's Cup.
/ANS PRESS/