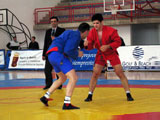 Parviz Shukurov weighing in at 56 kg grabbed silver, while Mikail Orujev at 70 kg took the bronze medals at the European Juniors and Youth Sambo Championships in Greek city Thessaloniki.
During the first day of the tournament, Azeri sambo fighter Vugar Mammadov weighing in at 62 kg mounted the highest step on the podium.
Huseyn Eyvazzade weighing in at 48 kg and Heydar Hashimov at 52 kg snatched bronze medals.
/AzerTac/