"Our team could score 2-3 goals instead of 1 in the match against "Anderlecht". But excitation impeded this. In general, I was very satisfied with my team. If Allah permits, "Neftchi" will demonstrate better game in future".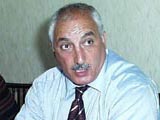 This was told by the head coach of "Neftchi" Aghaselim Mirjavadov in his explanation to APA.
The builder of the historical victory over "Anderlecht" in the second match of the second classification stage of the Champions League informed that if his players would demonstrate such game in the match held a week ago, then the result with great score would not be registered: "Simply, we did not have enough time for training for the first match. We made an exhausting visit lasted 7 hours to Island and then Belgium. All these are reflected in the quality of the game. If we had enough time for training for the first match, 0:5 score would not be registered. And 25 football players must present in the staff for playing in such matches, but not 14-15".
According to the words of A.Mirjavadov informing that all players have their services in the victory over Belgians, "Neftchi" defeated "Anderlecht" by demonstrating collective game.