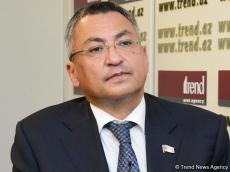 By  Trend
Azerbaijan pays great attention to sports, and Azerbaijan is known in the world as a sports country, Rovshan Rzayev, an Azerbaijani MP and member of the parliamentary committee on youth and sports, told Trend on December 2.
He was commenting on the election of the General Secretary of Azerbaijan Gymnastics Federation (AGF), Farid Gayibov, as the president of the European Union of Gymnastics (UEG).
Rzayev said that gymnastics has been developing very successfully in Azerbaijan in recent times, and there are great achievements in this field.
"Undoubtedly, all this became possible thanks to the work of the AGF President, Mehriban Aliyeva. Azerbaijani gymnasts achieve great success in the world thanks to the attention attached to gymnastics by Mehriban Aliyeva," noted the MP.
"And, of course, as a result of this work, Farid Gayibov has been elected to such a high position," added Rzayev.
"I think that this is an appreciation given to the Azerbaijani sports. At the same time, this is a sign of great confidence towards Azerbaijan," noted the MP.
Azerbaijan Gymnastics Federation Secretary General Farid Gayibov was elected as the President of the European Union of Gymnastics (UEG).
The 50 member Federations of the UEG elected the new UEG authorities at the 27th Congress in Split, Croatia Dec.2.
Gayibov gained 28 votes, leaving behind Edvard Kolar, President of the Management Board of the Slovenian Sports Lottery, who received 20 votes. Gayibov will replace Georges Guelzec (FRA), who led the UEG since 2009.