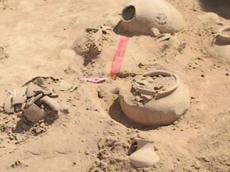 Unique samples were found during archeological excavations near Mireshelli village of Aghdam region of Azerbaijan.
Senior Researcher of the Archeology and Ethnography Institute, Prof. Hidayat Jafarov said that the found samples belong to 12-11th centuries BC and are considered as unique findings. "The jars found during the archeological research were identified as the samples of necropolis, a large elaborate cemetery of an ancient city. Such cemeteries have been found rarely so far, such archeological findings are called as oaken necropolis. Such samples allow getting detailed information about the ancient history".
The researcher said the ceramics samples found at site were also considered as unique. "Such unique samples of cemeteries allow us to research the habits and traditions of ancient tribes. These necropolis samples have a great significance in learning of our history. Archeological researching of this area is in the focus of attention of the National Academy of Sciences".
APA
/