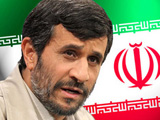 Iranian President Mahmoud Ahmadinejad introduced Ali Nikzad to the Parliament (Majlis) as the candidate to run the newly-established Ministry of Infrastructure, Press TV reported.
"Based on the 53rd article of the Fifth Five-Year Development Plan, the president named Ali Nikzad to run Ministry of Infrastructure, which has been established following the merger of Ministries of Housing and Urban Development and Roads and Transportation," a member of the Majlis Presiding Board Omidvar Rezaei Mir-Qaed told Majlis news agency (ICANA) on Sunday.
He added that the duties and authorities of the Ministry of Infrastructure have also been presented in accordance with the plan.
On May 9, the Iranian government announced plans to merge the Ministries of Roads and Transportation with Housing and Urban Development, Energy with Oil, Industries and Mines with Commerce, and Welfare and Social Security with Labor and Social Affairs.
President Ahmadinejad issued three separate decrees, dismissing Welfare Minister Sadeq Mahsouli, Minister of Mines and Industries Ali Akbar Mehrabian and Oil Minister Massoud Mirkazemi from their posts according to the 53rd article of the Fifth Five-Year Development Plan.
According to the plan, the Iranian government is obliged to reduce its ministries form 21 to 17 to officially improve the efficiency of the state administration.
/
Trend
/