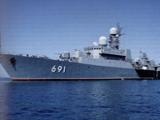 Deputy Commander of the Iranian Navy Rear Admiral Gholam-Reza Khadem Bigham said on Saturday that Iranian naval ships rescued a Maltese cargo ship 'Dandle' from pirates at international waters, IRNA reported.
The ship was sailing towards Iran for delivery of her cargo when it came under attack.The cargo ship was attacked off the coasts of Oman by four speed boats.
The Iranian naval forces by taking timely action forced the pirates to flee, he said.
/
Trend
/