Turkish Prime Minister Recep Tayyip Erdogan will arrive in Paris on April 6 on a two-day visit.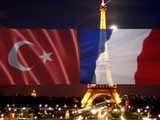 Erdogan will attend the closing ceremony of "Season of Turkey" events in France, and hold meetings with French President Nicolas Sarkozy and other high-level officials.
Erdogan's meetings with Sarkozy, French Prime Minister Francois Fillon, Parliament Speaker Bernard Accoyer and Senate President Gerard Larcher will take place on April 7.
Turkey-France relations, Turkey's EU membership process as well as bilateral and regional matters will be discussed during the meetings.
Erdogan will also meet with representatives of Movement of French Enterprises (MEDEF), and then address Turkish citizens in France on Wednesday.
He will depart from France on April 7.
"Season of Turkey" events began in France in July, 2009. Turkey was introduced across France with over 400 events.
/World Bulletin/