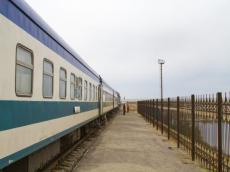 The World Bank will assist with Uzbekistan's privatization projects and will support an initiative to build a Trans-Afghan railroad, Azernews reports, citing Interfax.
Uzbek President Shavkat Mirziyoyev and World Bank Group President Ajay Banga discussed steps at a meeting in New York to "expand the bank's expert and technical assistance in the field of privatization, effective state governance, financing and private investments, as well as support for strategic initiatives such as the construction of a Trans-Afghan railroad," the Uzbek leader's press service said.
Mirziyoyev and Banga agreed that the World Bank's Advisory Council, made up of leading world business figures, would help develop measures to increase the flow of direct investment to Uzbekistan.
Uzbekistan is one of the World Bank's largest beneficiaries, with the portfolio of projects topping $11 billion. Their current partnership program until 2026 includes priority projects worth $4 billion.
The World Bank has been contributing to Uzbekistan's reforms in healthcare, education, agriculture, the banking sector, the energy sector, transport, digitalization, etc.
Following their talks in Tashkent in February 2021, representatives of Uzbekistan, Afghanistan and Pakistan signed a joint plan of action to build a 573-kilometer railroad linking Mazar-i-Sharif, Kabul and Peshawar with the transit potential of up to 20 million tonnes of cargo a year.