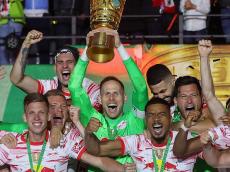 On June 3, the winner of the German football cup was determined.
Azernews reports that "Leipzig" and "Eintracht" clubs met in a decisive match.
The match ended with a 2:0 victory for "Leipzig". The goals in the game were scored by Christopher Nkunku in the 71st minute and Dominic Soboslay in the 85th minute.
It should be noted that this is the second victory of "Leipzig" in the German Cup.