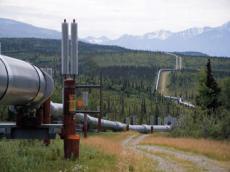 By Azernews
By Kamila Aliyeva
The Caspian Pipeline Consortium (CPC) exported 25,306 million tons of oil in January-May 2018, which is 12.01 percent more than in the same period of 2017, according to the CPC data, Kazinform reported.
In May 2018, the volume of oil exports of CPC amounted to 5.29 million tons against 4,872 million tons in the corresponding month of the previous year.
In 2018, the consortium plans to pump 67 million tons through its pipeline system. It is estimated that about 60 million of them will be produced in Kazakhstan, and about 7 million is expected to be received from Russian producers. An almost two-fold increase in oil consumption from Kashagan to 13 million tons is planned.
Caspian Pipeline Consortium was established to build a pipeline and export Kazakh oil through Russian territory.
CPC exported 55,107 million tons of oil in January- December 2017, showing a 24.4 percent increase compared to 2016.
CPC owns 1,511 km long pipeline system that connects the oil fields in Western Kazakhstan with the Marine Terminal near Russian Novorossiysk. In 2017 the Caspian Pipeline Consortium will complete the Expansion Project and which will increase its capacity to 67 million tons of oil per annum. Kazakh producer will account for 56 million tons of that volume and Russian producers - for 11 million tons.
CPC Shareholders: Russia (represented by Transneft – 24 percent and CPC Company – 7 percent) – 31 percent; Kazakhstan (represented by KazMunaiGaz – 19 percent and Kazakhstan Pipeline Ventures LLC – 1.75 percent) – 20.75 percent; Chevron Caspian Pipeline Consortium Company – 15 percent, LUKARCO B.V. – 12.5 percent, Mobil Caspian Pipeline Company – 7.5 percent, Rosneft-Shell Caspian Ventures Limited – 7.5 percent, BG Overseas Holding Limited – 2 percent, Eni International N.A. N.V. – 2 percent ? Oryx Caspian Pipeline LLC – 1.75 percent.
The volume of CPC shipment of oil for export in 2017 was 55,107 million tons, which is 24.4 percent more than in 2016.