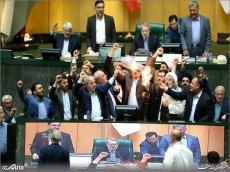 By  Trend
A number of Iranian MPs set fire to the nuclear deal between Tehran and the six world power following the US decision to leave the accord.
During an open parliamentary session on May 9, the MPs put fire to the US flag beside burning a copy of the Joint Comprehensive Plan of Action (JCPOA, aka nuclear deal), Iranian media outlets reported.
The parliament session started with the "down with the US" slogans being chanted by MPs.
The Iranian MPs' symbolic protest came hours after the US President Donald Trump announced that the US walks away from the accord reached in 2015 between Tehran and the six world powers.
Trump also announced that the United States re-imposes the "highest level of economic sanctions" on the Islamic Republic.
The sanctions were removed in 2016 in exchange for Tehran limiting its nuclear program, when the nuclear deal came into force.
Iran's President Hassan Rouhani said May 8 that he ordered the Foreign Ministry to negotiate with the European countries, China and ?Russia in coming weeks.?
"If at the end of this short period we conclude that we can fully benefit from the ?JCPOA with the cooperation of all countries, the deal would remain," he added.