"The military doctrine of Azerbaijan will be ready by the end of this year. Prior to this, security conception of the country will be prepared," Azerbaijani President's adviser for military affairs, Lieutenant General Vahid Aliyev told journalists.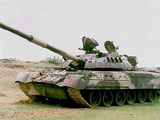 He said measures are being implemented in establishing united headquarters system in the Azerbaijani Armed Forces, APA reports.

"We are taking measures in this field in accordance with the individual partnership plan with the NATO. It takes some time to implement certain nuances in establishment of a united headquarters system," the President's adviser said.
Vahid Aliyev said it is premature to report on the issue concerning Armed Forces Staff chairman taking over some authorities of the Defense Minister after the united headquarters system is established. He said border troops and interior troops will gradually function as law enforcement bodies.
"Measures are being implemented in accordance with the development program of the frontier troops as well as the interior troops at present. Ten new frontier posts have been established recently. Necessary allocation will be provided for the development of the development program of frontiers. As coming to the interior troops, Russian deputy commander of interior troops, who has recently visited Azerbaijan, positively assessed the measures implemented in this sphere," the President's adviser said.