Foreign Minister Elmar Mammedyarov visted Anakara on 27 June following the invitation of deputy Turkish Prime Minister, Foreign Minister Abdullah Gul.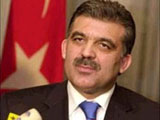 APA was informed by head of Press and Information Office of Foreign Ministry Tahir Tagizade.
Heads of MFA of friend and fraternal countries exchanged opinions on regional and international issues including Upper Garabagh conflict, Baku-Tbilisi-Ceyhan oil pipeline, Baku-Tbilisi-Erzurum gas pipeline, Gars-Tbilisi-Baku railway projects and other issues of mutual interest in the meeting. A.Gul expressed his confidence that, Turkish Prime Minister Rejeb Tayyib Erdoghan's upcoming visit to Azerbaijan will be successful.
Foreign Ministers of Azerbaijan and Turkey will leave for Yemen to attend the economical forum of Islamic Conference Organization.