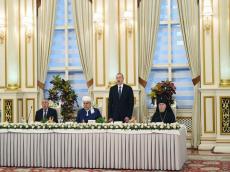 By  Trend
The Armenian people finally realized that they were led by a criminal junta regime for 20 years, said President of Azerbaijan Ilham Aliyev as he addressed an Iftar ceremony.
The ceremony was hosted by Chairman of the Caucasus Muslims Office Sheikhulislam Allahshukur Pashazade on June 6.
The head of state said the Armenia-Azerbaijan Nagorno-Karabakh conflict should be settled only on the basis of international norms and principles.
"Nagorno-Karabakh is our historical land. We convey this, these realities to the whole world. Many papers, books were published, many events were held. We must convey and we do convey the historical truth. Now, no one doubts that Nagorno-Karabakh historically belongs to the Azerbaijani people. Nagorno-Karabakh is an inalienable part of Azerbaijan from the legal point of view, and the whole world recognizes the territorial integrity of Azerbaijan. No country recognizes and, I am sure, will never recognize the criminal, self-proclaimed regime in Nagorno-Karabakh. These factors, the historical facts, the norms of international law, regulations and resolutions of international organizations not only strengthen our position, but also create the basis, the legal basis, for the conflict settlement, and we achieved this as a result of tireless activity. I am sure that by pursuing a consistent policy, we will achieve our goal, restore the territorial integrity of our country. I do not doubt this," President Aliyev said.
Historical realities, legal framework, resolutions of the UN Security Council, regulations and resolutions of other organizations, the country's economic might, military power and the real situation in the region give grounds to say this, added the president.
"Today, Armenian people talk about the things that I have been talking for years. I exposed the former criminal regime of Armenia from the highest tribune of the world, from the tribune of the UN. I called them by names, I accused them of the Khojaly genocide, war crimes. I named the former leadership of Armenia a bloodthirsty, criminal, bandit regime. All this is true. I told the truth, today the Armenian people say this truth. The Armenian people finally realized that for 20 years they were led by a criminal junta regime, a regime that pursued only its own interests, a regime, because of unsatisfactory and criminal activity of which, Armenia found itself in such a deplorable state," the president said.