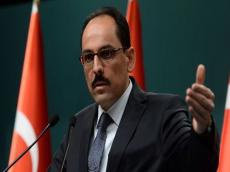 By  Trend
The last visit of Azerbaijan's President Ilham Aliyev to Turkey is a clear indicator of relations between Ankara and Baku, said Ibrahim Kalin, the Press Secretary of the President of Turkey.
Kalin noted that Azerbaijan and Turkey are the closest countries to each other.
"Turkey and Azerbaijan are linked by fraternal relations, cultural, religious and political ties," the spokesman said.
He noted that strengthening relations with Azerbaijan, including with other Turkic-speaking countries, is a priority for Turkey.
Ilham Aliyev paid a visit to Turkey on April 25.
Turkey participates in the majority of large-scale projects implemented by Azerbaijan in the region. Among them are the Baku-Tbilisi-Ceyhan and Baku-Tbilisi-Erzurum projects. Turkey and Azerbaijan demonstrated their leadership in signing the agreement on the Trans-Anatolian Pipeline (TANAP) project in Istanbul in 2012, which is one of the important components of the Southern Gas Corridor, which will allow Azerbaijan to send gas to the world market. In the summer this year, gas will begin to flow through TANAP to Turkey first, and then through the Trans-Adriatic Pipeline to Europe in 2020.
Another large-scale project of the century is the Baku-Tbilisi-Kars railway, which will ensure more active economic and trade cooperation between Ankara and Baku with the involvement of a large flow of goods from Central Asia to Europe. With the launch of the railway in November 2017, the time of cargo transportation decreased by 12-15 days. Before the commissioning of the Baku-Tbilisi-Kars railway, the cargo flow between Europe and China was realized via sea routes, lasting on average 25-30 days.
The State Customs Committee of Azerbaijan reported that trade turnover with Turkey in 2017 amounted to $2.64 billion, of which $1.37 billion fell on exports to Turkey. Trade turnover between the two countries increased by 14.8 percent in 2017. In the first quarter of this year, the Azerbaijani-Turkish trade turnover amounted to $573.1 million (an increase of 3.7 percent for the year).