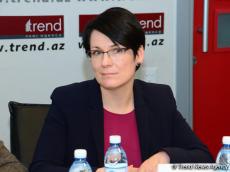 By Trend
I wish Azerbaijan to stay stable and safe, said Deputy Director General of Trend News Agency, Lina Vaitkeviciene during the discussions on the presidential election in Azerbaijan at the Expert Council of the Baku Network.
"I wish you prosperity, further development. You are on the right track. Just keep going," she said.
Vaitkeviciene noted that by voting for Ilham Aliyev, the Azerbaijani people voted for stability and safety.
"I think the results were predictable. All the generation, who are now 40-50 and older, remember the hardships in the first years of Azerbaijan's independence and they value what they have today: safety and stability. Despite the fact that the country is in the conflict, it is safe and stable and people value it. Especially, in our days, when we see so many conflicts around the world, safety and stability is very important. I think it is one of the main factors why Ilham Aliyev was elected. I could say that people voted here for their safety and stability," she said.
Vaitkeviciene noted that another factor which play a role in the victory of President Ilham Aliyev, is the development, positive changes and achievements of the country.
"There is a developed infrastructure with good quality roads. Everybody can see nice buildings, renovated hospitals, renovated schools, created new jobs, growing of tourist flow. It is also obvious for everybody that there were done a lot of things for the country's promotion. A lot of international events were organized in Azerbaijan," she said.
Vaitkeviciene pointed out that Azerbaijan pursues a policy of diversification of economy and there are already results.
"All these factors created basis for the new cadency of the president. So, people came to vote for stability, safety and for the work that started to be continued," she added.
Azerbaijan held a presidential election on April 11.
Eight candidates were registered for the election. Six of the candidates were nominated by political parties, one candidate was a self-nominee and another candidate was nominated by an initiative group.
The incumbent head of state, Chairman of the New Azerbaijan Party Ilham Aliyev has garnered 86.03 percent of votes in the election, according to the votes counted in 5,641 polling stations.
On the voting day, 5,426 permanent polling stations and 215 temporary polling stations in 125 constituencies operated in the country.
The election was observed by 894 international observers (61 organizations, 59 countries) and 58,175 local observers.
The voter turnout was 74.51 percent. That is 3,962,123 of 5,332,817 voters cast ballot in the election.