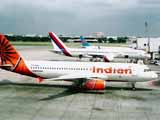 Napping on an airplane can be quite difficult due to the roaring engine, the flight attendants' incessant footsteps and, of course, the unrelenting cries of a displeased baby. Your best bet is to either wait to sleep later or, better yet, bring along some quality earplugs.
However, a young and quite intoxicated Indian lad opted to instead try taking a nap behind a jet engine.
March 27, 2010, at the Indira Gandhi International (IGI) Airport began like any other day. Janitors weaved in and out the crowds, picking up litter and scrubbing the floors; security personnel vigilantly manned their stations, ensuring only authorized individuals passed through to the next checkpoint; and airline staff members checked flight schedules and made preparations for their upcoming voyages.
All was well until approximately 3:50am, when the crew of flight IC 868 to Raipur/Nagpur approached their plane, an Indian Airlines Airbus A-320 jet airliner, to make an inspection, only to discover a young man fast asleep behind an engine, his leg casually dangling from the side.
A security team was immediately called to pull the inebriated drunk out of his comfortable slumber. After roughing him up a bit, the team then interrogated the young lad. Apparently, he found his way into the airport by hiding "on top of a white truck." (The Times of India) After arriving, he drowsily wandered about until he stumbled upon the perfect spot for a nap on a hot Delhi night: behind the humongous fan of a jet engine. Mind you, the 'fan' wasn't running!
According to The Times of India, a similar occurrence happened only a month prior, on February 26. A drunken man was spotted sleeping on the runway. Fortunately, he was pulled off the runway in time, as a plane was just about to land.
/Weird Asia News/