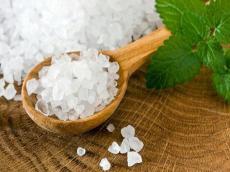 By Azernews
By Laman Ismayilova
Natural, unrefined sea salt has some kind of health benefits for all of us. One can achieve a more balanced and healthy lifestyle thanks to about 84 trace elements of sea salt.
Sea salt is obtained directly through the evaporation of seawater. It is usually not processed, or undergoes minimal processing. The darker the sea salt, the higher the concentration of minerals and impurities it contains. 
The natural resources of salt in Azerbaijan are practically inexhaustible. Deposits are represented by fields of rock salt, modern lake salts and subsurface brines. Salt springs are known in Nakhchivan, Garadag district of Baku, Absheron, Salyan and other regions.
The most ancient salt deposit in the country is in the valley of the Aras River on the southern slope of Mount Duzdag. Archeologists say that the first development of this field began five thousand years ago. In 2006-2011, French archaeologists conducted research in Nakhchivan and concluded that the Duzdag mines are, most likely, the oldest in the world.
The northern part of Absheron is home to salt lakes - Boyuk Shor, Bulbul, Masazir and others.
One of the largest salt lakes in Absheron is the Lake Masazir with an area of 10 square kilometers. It is situated near a village with the same name. Iodidebromine salts, which are used not only as food, but also for medicinal purposes, have been produced since ancient times here.
Today sea salt is widely used in the manufacture of cosmetics, pharmaceuticals and antiseptic agents.
The health benefits of sea salt include good skin care, improved dental health, relief from rheumatoid arthritis, muscle cramps, psoriasis, and osteoarthritis. It also assists in providing relief from acne and rhinosinusitis. Furthermore, it is beneficial for exfoliation, nasal and eye wash, and an improved electrolytic balance of the body.
Sea salt also has healing properties that play a vital role in maintaining acid-alkali ratio, regular heartbeat, and relaxed sleep, along with providing relief from general body fatigue.
Believe it or not, but sea salt can also help in weight loss. It helps the body to create digestive juices so that the foods you eat are digested faster, and it helps to prevent buildup in the digestive tract, which eventually can lead to constipation and weight gain.
Sea salt is effective in reducing inflammation in the respiratory system. Thus the production of phlegm is slowed down so that you can breathe easier again. Some say that sprinkling sea salt on the tongue after drinking a glass of water is just as effective as using an inhaler. But the great thing about sea salt is that it has no side effects when taken in moderation.
Experts have revealed that the salty sea air by the coast does wonders for the respiratory system and those with asthma, bronchitis, sinus pressure, and coughing will notice a difference in their condition after just one day at the beach. The salty sea air also contains negatively charged hydrogen ions that help absorb oxygen and balance out serotonin levels, resulting in more energy and diminished depression.
The salt helps to preserve two essential hormones in the body that help you to better deal with stress. These hormones are serotonin and melatonin, which help you to feel good, and relax and sleep better at night.
The benefits of a sea salt bath include calming effect. The product may help you to unwind and release emotional tension as it relaxes your muscles.
This natural product consists of a similar assortment of minerals and natural healing elements as those found on skin cells. This makes it a perfectly natural ingredient to be used for therapeutic treatments and beauty products.
The product promotes hair growth by strengthening its follicles. Thus, you can try improving blood circulation in the scalp with a sea salt head massage.