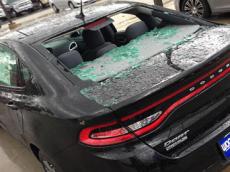 Even by Tornado Alley standards, the hail storm that hit Blair, Neb., on Tuesday was a whopper, with tennis-ball-sized chunks of ice pounding the town for 15 minutes. Some 27 people were injured, hundreds of homes and buildings damaged and scores of windows broken. And the biggest hit landed at the local mega car dealer, which estimates nearly 4,500 new cars and trucks suffered some $10 million in damage.
The Woodhouse Auto Family dealership chain has its flagship Ford and Chrysler/Dodge/Jeep stores in Blair, with $152 million in new-vehicle inventory — all of which was sitting outside Tuesday when the storm blew in. In one video recorded by employees and posted to the dealership's Facebook page, the hail sounds like a storm of buckshot hitting the roof.
The dealership says it is still counting up the damage to the vehicles on its lots, but that the traditional post-hailstorm sale will be sizable. Normal-size hail can inflict thousands of dollars of dents and broken glass; several of the cars shown at the Woodhouse dealership look near-totaled, considering they might need entirely new roofs, hoods and fenders.
Many dealers can use paintless dent repair to get small dings out, but before you grab your checkbook, a few warnings about hail-damaged vehicles. Insurance and valuation can get tricky fast: If you buy one and decide the dents add character (or you can't afford all the fixes), the insurance company will still write down the value of the car so it's not paying for repairing old damage in any future crash. The damage report will likely be flagged in VIN tracking systems. And a hail-damage discount may be less than the reduction in its resale value.
And don't worry if you can't get to Blair for this deal. With the way weather patterns are changing, chances are there'll be a hail of a sale near you soon.

/Yahoo/