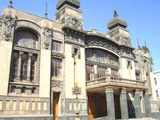 On April 17, the State Academic Opera and Ballet Theater will host premiere of a children's opera "Puss in Boots" by famous Azerbaijani composer, Honoured Artist Leonid Weinstein.
The premier is dedicated to 65th anniversary of the composer.
It was first staged at the theater in 1985. It enjoyed great popularity among young viewers. It was withdrawn from the repertoire only six years ago.
/Day.Az/