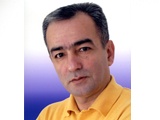 According to ANS PRESS, T. Adigezalov died at age 57. He passed away approximately at 4:00 (local time).
Telman Adigezalov was born on 17th of July 1953. Back in 1975 he graduated Azerbaijani State University of Art, the faculty of arts & film. Since 1980 he was working in Azerbaijani National Drama theater.
In 2000 he was honored as "people's artist", and in 2006 as National artist of Azerbaijan. He is survived by a son, and a daughter.
-------------------
10:18
Today, Azerbaijani national artist, the actor of Azerbaijani National Academic theater Telman Adigozalov passed away. According to the manager of Azerbaijani Drama theater Magbet Buniyatov, the actor was not feeling good during the night, and notified his daughter.
When the doctors arrived they were not able to save Adigezalov's life. Later it was reported that Adigezalov died of a heart attack.
Rest in Peace.
/

APA/