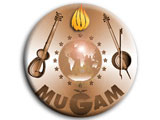 A known performer of folk songs and mughams, People's artist Sakina Ismailova came back from Germany. She gave two concerts in Berlin titled "A Night of Mugham".
One of her concerts took place at the building of Azerbaijani embassy and the other in one of the famous concert halls. At both concerts she performed to the accompaniment of Aliaga Sadiyev (tar) and Elshan Mansurov (kamancha).
The concert was attended by known businessmen, state representatives and the co-workers of the embassy. Both concerts caused a big interest. The mugham performer said she would be a member of the jury of the mugham contest to be held traditionally in Astara in May. It has already been 10 years that Sakina Ismailova is a member of jury of the contest.
/Baku-Art.Az/