US talk show host Conan O'Brien has reportedly agreed a pay-off of more than £15.8m as he looks set to leave NBC's Tonight show.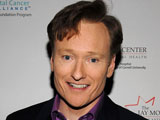 The host all but said goodbye on this week's Tonight shows as his exit negotiations with NBC neared their conclusion.
Hinting that he's bracing for the bitter end of his brief tenure at Tonight, he said in one of his show monologues: "Hi, I'm Conan O'Brien, and I'm just three days away from the biggest drinking binge in history."
His guests this week include big names such as as Robin Williams, Barry Manilow, Tom Hanks and Will Ferrell - in what could be a star-studded farewell for the comedian.
He was negotiating with NBC for a severance package of more than $30m (£15.8m), which would clear the way for Leno to return.
The proposed deal would allow O'Brien - who cut his teeth as a writer on The Simpsons and Saturday Night Live - to work at another network as soon as this autumn.
NBC's effort to keep both presenters at the network ran aground when Leno's experimental prime-time show drew poor ratings and affiliate complaints that forced its cancellation.
O'Brien, who refused to move his show back to a 12.05am slot, has seen his viewership jump in recent days.
/Sky News/