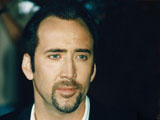 Nicolas Cage has reportedly agreed to pay the IRS all the funds he owes in back taxes.
The Oscar winner faces $6.3m (£3.9m) in unpaid taxes, according to reports. He is currently suing his ex-manager and recently sold two historic New Orleans homes in a foreclosure auction.
People says that Cage also owes another $14m (£8.5m).
"I am under new business management and am happy to say that I am current for 2009, all taxes will be paid including any to be determined state taxes," he said.
Cage will next be seen as Damon Macready in Kick-Ass.
/Digital Spy/