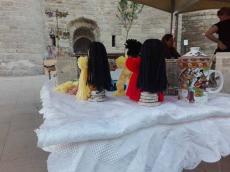 By Azernews
By Laman Ismayilova
Icherisheher, the heart of Baku and its oldest living settlement, continues to fascinate its visitors with the colorful art project.
The project dubbed 'Art Weekends' features exhibition-sale of works by several young artists. More than 10 artworks of local brush masters were presented at the exhibition last weekend.
The exhibition was supported by the "Icherisheher" State Historical-Architectural Reserve Department and NGO Arts Council Azerbaijan, Azertac reported.
Icherisheher was declared a historical and cultural reserve in 1977, and was included in the UNESCO World Heritage List in 2000.
The "Baku Acropolis", "Old Town", "Inner Town" – these are the names for this unique historical ensemble located right in the center of Baku. Icherisheher is also referred as a fortress, because its area of 221 km2 is fully surrounded with well-preserved walls. The territory of Icherisheher was inhabited with people as early as in the Bronze Age and by the VIII-XI centuries it had been completely populated.
The pearl of the Azerbaijani culture, possesses hundreds of historical monuments, four of which are of global importance. The Shirvanshakh Palace complex with a shrine, divankhane, and mosque, as well as "Giz Galasi" (the Maiden Tower), mosques and minarets, the ruins of caravanserais and bathhouses are located here.
It became the first location in Azerbaijan to be classified as a World Heritage Site by UNESCO.