The Azeri State Oil Company (SOCAR) produced 4.45m tons of oil in the first six months of 2006 against the target of about 4.36m tons, or 2% over the projection.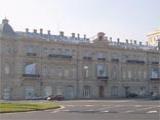 Oil and gas producing units extracted 3.909 million tons of oil, while joint ventures and operating companies – the remaining 541,000 tons.
Despite the increase, the output was 0.5% below January-June 2005, the company told AssA-Irada.
SOCAR's gas output increased 31.9% compared to the same period of 2005, as some 3.39bn cubic meters were produced instead of the planned 2.57bn cu. m. However, gas production was 2.7% below the projection for January-June.
/AzerNEWS/