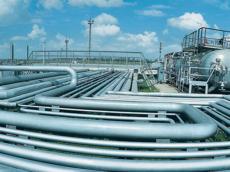 By Aynur Karimova
Turkmenistan is one step closer to the implementation of the long-awaited Trans-Caspian gas pipeline, widely regarded as the optimal option to deliver Turkmen blue fuel under the Caspian through Azerbaijan to European consumers.
The project comes closer to being realized after the parliaments of Turkmenistan and Kazakhstan ratified a bilateral agreement on the division of the Caspian Sea between the two Central Asian countries.
The construction of the 300 kilometer-long Trans-Caspian Pipeline is of strategic interest to the EU, Turkmenistan and Azerbaijan. Europe seeks to decrease its dependence on Russian gas, while Turkmenistan aims to diversify its gas supply routes, as well as create an additional guarantee for the reliable and stable export of energy resources to international markets. Meanwhile, Azerbaijan is interested in the huge benefits of transporting Turkmen gas via its territory.
The negotiations between the EU, Azerbaijan, and Turkmenistan on the Trans-Caspian gas pipeline began in September 2011 and accelerated after the Ukraine crisis. When the European Union began to impose sanctions against Russia, Malena Mard, head of the EU delegation to Azerbaijan expressed the EU's interest in the implementation of the pipeline and called the project "a good opportunity to diversify energy supplies."
The unresolved status of the Caspian Sea, however, has been regarded as the main factor hindering the implementation of the project.
By signing the agreement on the delimitation of their maritime border in the Caspian Sea with neighboring Kazakhstan, Turkmenistan showed the international community that its national sectors of the Caspian Sea are de facto recognized.
Iran will win by joining Trans-Caspian
Turkmenistan's desire to bring about the Trans-Caspian Pipeline has prompted isolated Iran into action. Following the EU's interest in diversifying its energy supply routes, Iran has repeatedly offered its territory as a potential route for gas transportation to Europe.
The Islamic Republic, which sits on 34 trillion cubic meters of gas, accounts for 18 percent of the world's total and largest reserves, putting the country ahead of Russia and Qatar. Iran hopes to enjoy new business and investment opportunities after the nuclear talks with the six world powers near an end.
Europe is heavily dependent on energy imports and is striving to reduce its energy reliance on Russia and keeping the possibility of importing gas from Iran open.
Iran stands ready to resume its gas exports to Europe in case the international sanctions imposed against it are lifted. Iranian officials said the Islamic Republic could serve as a reliable and steady source of natural gas to Europe.
Iran desires to be the regional hub for energy trade and a bridge for Central Asian and Azerbaijani energy exports to European markets.
Thus by joining the Trans-Caspian Pipeline, Iran will escape a long-term blockade and become Europe's necessary strategic partner in gas supply.