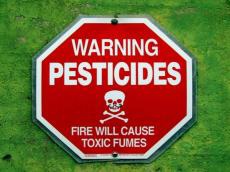 By Nazrin Gadimova
Going shopping for fruits or vegetables, we always try to choose the most beautiful and the biggest apples or tomatoes. Certainly, this desire is understandable, but it is worth bearing in mind that such vegetables and fruits, especially those with beautiful appearances may contain pesticides - meant for attracting, seducing, destroying, or mitigating any pest, as well as nitrates, growth hormones and other chemicals.
Spraying of pesticides can increase crop yields and protect plants from pests and diseases. But, unfortunately, they have a negative impact on our health, especially for those suffering from allergies and people with diseases of the gastrointestinal tract and kidneys. How to get rid of the chemistry on the surface of fruits and vegetables? Washing is not enough to tackle this problem.
Some simple rules will help us understand how to stay healthy and get pleasure from food. Thus, it is not necessary to buy too big fruits or vegetables - as a rule, the concentration of chemical substances in them are considerably higher than in those of average size.
Before cooking, vegetables should be thoroughly washed in water, greenish parts of roots should be cropped; such vegetables as potatoes and carrots can contain toxic substance -solanine. Therefore it is necessary to cut the vegetables into small pieces and soak in cold water for 15-20 minutes. One should remember that early fruits and veggies are always saturated with nitrates, so be sure to clean its skin before using.
Heat treatment of vegetables will also help get rid of harmful substances. Thus, cooking vegetables neutralizes some 50-80 percent of nitrates, other methods of heat treatment allows to eliminate 10 percent of these toxic substances.
It is surprising, but lemon or pomegranate juice is able to neutralize nitrate compounds. Thus, it is useful to add them to salads and sprinkle vegetables before cooking. An ascorbic acid has the same properties, so experts recommend taking it just before eating. Also, do not store defrosted vegetables, fresh juices and fresh salads in the fridge, since the long-term storage and changing temperature convert nitrate to nitrite - carcinogens.
If you know how to properly wash and clean fruits and vegetables, you can also get rid of nitrates and pesticides. For example, cabbage's upper leaves and stalks contain most of the nitrate, so they must be discarded.
In potatoes these substances gather under the peel and in the core of the tuber, so after boiling potatoes this water must be drained.
Cucumbers, in turn, should be grassy colored; dark green color indicates that they are overfed with nitrates. First zucchinis and eggplants need to be peeled. Cut the pedicle - this is the most toxic place.
The herbs are always swiftly absorb nitrates, so before adding it to the dish, soak it for an hour in the water. Most of harmful substances accumulate in the veins and petioles - one should not eat it.
When choosing tomatoes, keep in mind the thicker the skin, the greater chemicals it contains. Do not buy orange-red tomatoes - do not be ashamed to ask the seller to cut a tomato, and if it is with white pulp and thick veins, it means great content of chemicals. If you still got substandard tomatoes, soak them in a cold water for about one hour.
To store grapes for a long time, it is treated with fungicides. To remove this substance, grape should be washed well, preferably with water and household soda.
Do not buy watermelons cut in half and wrapped in a foil, as it is a good base for the growth of bacteria and germs. If watermelon has thick and yellowish veins, it was fertilized. You can also do a small test: put the pulp in a glass of water for a moment, and if the water changed its color, it means that watermelon was fertilized.
When buying fruit take them in hand, if you feel that the fruits are slippery, sticky - they are treated by biphenyl, so that they will not spoil for a long time. In the European Union and U.S. biphenyl is banned because of strong carcinogenic and allergenic properties.
It is possible to minimize the amount of the consumed chemicals - you need to choose fruits and vegetables grown in our country, as they are many times "cleaner" than imported ones.